Speaking được coi là kỹ năng khó nhằn nhất trong đề thi IELTS đối với các thí sinh. Bạn đang tìm kiếm các mẫu câu thường gặp IELTS Speaking? Hãy cùng Aten English tìm hiểu ngay trong bài viết sau đây nhé!  
1. Các mẫu câu trả lời Speaking IELTS Part 1
Q1: Do you like drawing? Why?
Yes, I do. I used to be fancy about drawing when I was in primary school. I just enjoyed copying the figure in my drawing book and using any color I like. I felt proud of being praised by my relatives when they saw my drawing posted on the wall of my house.
Q2: How often do you visit art galleries?
Unfortunately, despite my grand passion for art, I rarely go to art galleries. It's because art exhibitions usually take place in big cities far from my hometown and ticket fees are too expensive for me.
exhibition (n): an event at which objects such as paintings are shown to the public, a situation in which someone shows a particular skill or quality to the public, or the act of showing these things.
take place (idiom): to happen.
Q3: What kinds of things do you like to draw?
Well, in all fairness, I would probably say nature. Generally, people face difficulty drawing people and there is no exception for me. I am much better at drawing natural scenery than human shapes so most of my paintings are trees, flowers, and animals.
Q4: What kind of paintings do you like having in your home?
Let me think about that. If I owned a house in the near future, I would definitely hang up my paintings all over my house as if my house was an art gallery. Besides, it will be a great idea if I can afford authentic paintings by well-known artists. This can somehow satisfy my great love for art and a painting collection is an ideal hobby as well.
hang up: to place something, esp. clothing, on a hook or hanger.
Q5: What benefits can you get from painting as a hobby?
I think the mediation efficiency is worth mentioning first. Colors in some ways reflect our thoughts and emotions very well and somehow stimulate our body to defend against our negativity inside. For me, in particular, I think what's so interesting about painting is that you have no idea how harmonized colors can become until you actually try them.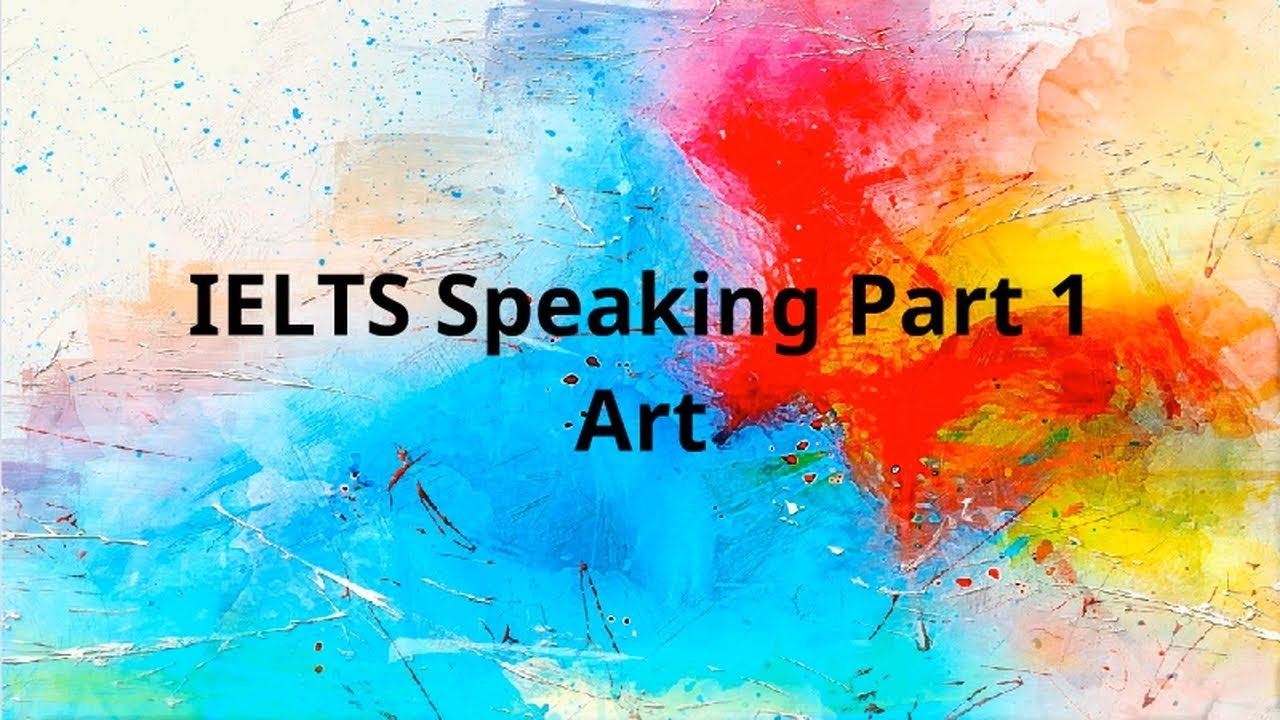 2. Các mẫu câu trả lời Speaking IELTS Part 2
Describe a piece of artwork that you have seen before. You should say:
Where you saw it
What it was about
When you saw it
And explain how you felt about it.
Hướng dẫn trả lời:
To tell the truth, I am not exactly a big fan of art as I find them quite difficult to understand. However, this painting really mesmerized me right at the moment I laid my eyes on it. It was an oil-painting portrait named "Little Thuy" by Tran Van Can, who is a nationally-acclaimed Vietnamese painter.
To the best of my recollection, it was in the 4th grade when I saw this picture for the first time. Actually, I didn't see it in person but in my art textbook as the real McCoy was displayed in Hanoi – the capital of Vietnam. Of the paintings in my fine art textbook at that time, "Little Thuy" stood out to me most because of her angelic face and her exceptional painting technique of the painter.
The painting featured a girl named Thuy, who lived next door to his house. Judging from her appearance, I guessed that she was about 8 to 10 years old. The girl dressed in white, half sitting on a chair with her eyes widely open. She wasn't smiling cheerfully like her peers found in other paintings but looked rather emotionless and inscrutable. It was believed that her eyes reflect the soulful world of Chan Van Can as he witnessed the then-westernization of Vietnamese society.
According to the textbook, this painting was considered one of the best artworks in the first half of the 20th century, when oil painting was newly introduced to Vietnam. Speaking of my feelings about "Little Thuy", it's hard to put into words but there's some charm about this painting that appealed to me to this day. Hopefully, I can have the opportunity to visit Hanoi to admire the beauty of this masterpiece with my own eyes.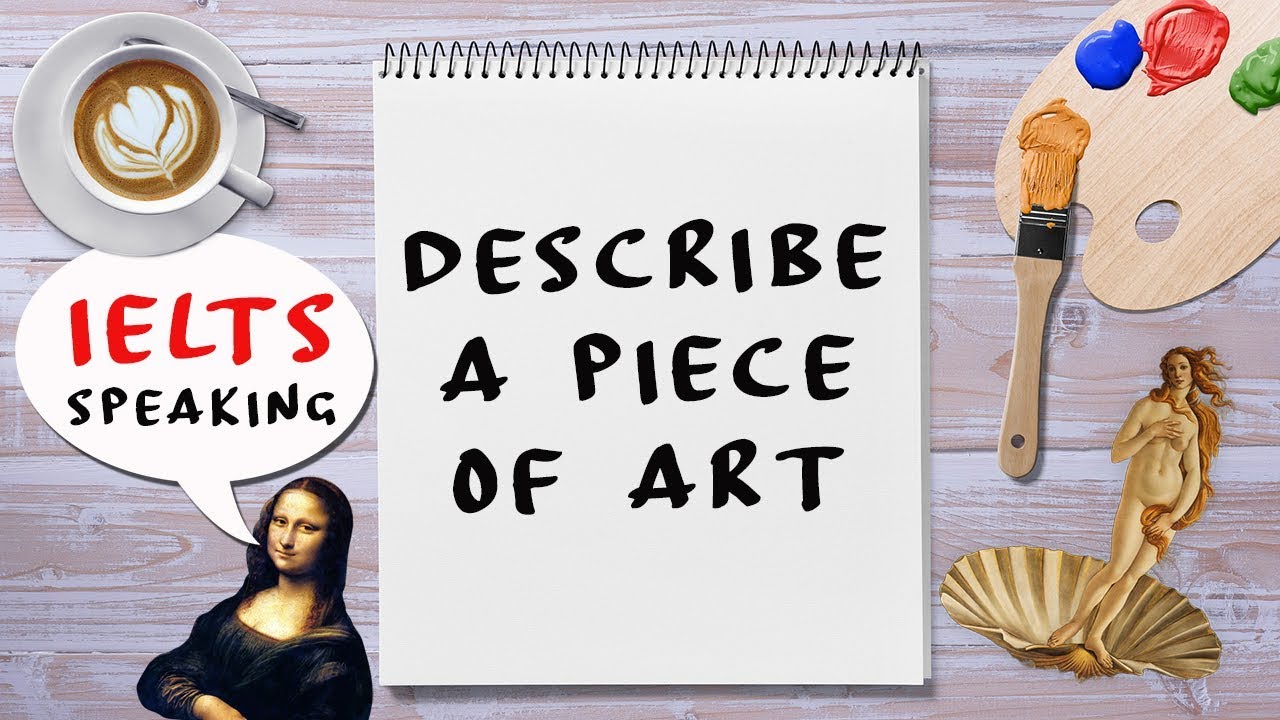 3. Các mẫu câu trả lời Speaking IELTS Part 3
Q1: What makes a work of art valuable?
I believe that the artist's talent as well as the strong emotions evoked by a work of art can make it extremely valuable. Leonardo de Vinci's Mona Lisa faithfully reflects the style of the master renaissance and creates an eerie emotion in the audience through the magnetic and eerie smile of the Mona Lisa.
eerie (adj): strange frighteningly and mysteriously.
magnetic (adj): attractive.
Q2: Why are some works of art very expensive, while some are not?
I think some masterpieces are extremely expensive because the investment of talent, effort, and money like a blockbuster can cost millions of dollars to produce. However, many pieces of art are much simpler and require very little, such as a homemade photo in a basement or garage. This is simply not going to hit billions of dollars in sales figures.
masterpiece (n): a work of art such as a painting, film, or book that is made with great skill.
Q3: Do you believe art is a worthwhile endeavor for human beings to pursue? Why?
Yes, I certainly feel that it is a good passion to make art for everyone because it is the most sincere form of self-expression and has the power to change society. Songs, paintings, and works of art motivate and influence people around the world every day, and for this reason, individuals must always be excited about creating art.
Q4: Art is displayed in publicly funded galleries and museums all over the world. Do you believe this is a positive usage of taxpayers' money? Why/Why not?
Yes, I support using tax dollars to fund galleries and museums as it makes society more educated and increases appreciation for works of art and history as well as providing freedom of expression for artists.
Có thể nói, IELTS Speaking là kỹ năng khó ăn điểm nhất trong đề thi IELTS nhưng bạn đừng vì thế mà nản chí mà hãy
luyện thi IELTS Speaking
và tận dụng các m
ẫu câu thường gặp IELTS Speaking
 để nâng cao Band điểm IELTS Speaking của mình nhé!
Trên đây là một số
mẫu câu thường gặp IELTS Speaking
.
Từ đó, bạn hãy chăm chỉ ôn tập để đạt được kết quả cao trong kì thi IELTS sắp tới.