Câu hỏi có trả lời: Bài kiểm tra nói Sitting down IELTS Speaking. Đây là chủ đề và câu hỏi IELTS Speaking part 1 về cuộc sống của bạn. Câu trả lời của bạn sẽ là từ cuộc sống và kinh nghiệm của bản thân. Cùng Aten English tìm hiểu kỹ hơn về chủ đề này nhé.
IELTS Speaking Part 1 là gì? 
IELTS Phần 1 Nói kéo dài khoảng 5-6 phút. Trong thời gian này, bạn sẽ trả lời khoảng 12 câu hỏi liên tiếp về 3 chủ đề. Các câu hỏi  bám sát mọi chủ đề quen thuộc trong cuộc sống như: country (quê hương), study (học tập), sports (thể thao), food (đồ ăn), problems (sở thích), family (gia đình)…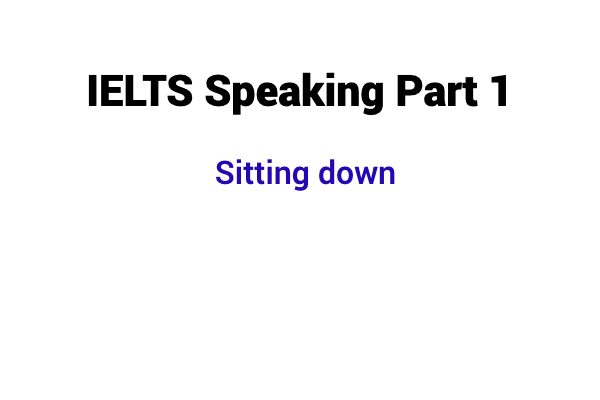 Do đó, Topic IELTS: Sitting down IELTS Speaking Part 1 ứng viên nên xem những câu hỏi này để trả lời ngắn gọn. Chỉ cần trả lời ý chính của thông tin được yêu cầu và thêm một hoặc hai chi tiết.
Sitting Down ielts speaking Part 1 Questions With Answer Test
Dưới đây là một vài câu hỏi phổ biến về chủ đề sitting down ielts speaking mời bạn theo dõi.
Question 1:- Where is your favorite place to sit?
Answer 1:- There is park in my vicinity, and I would say that is the best place for me to relax and sit for some time.
Answer 2:- There are various places where I prefer sit in my alone time, even if I want to spend my quality time in that place is a Gurdwara. Sometimes I prefer to sit in a park because there are numerous reasons why I choose this place. After all, the ambience of that place is entirely compatible with my mental side, I feel more comfortable and delightful. It all also helps to reduce my stress level.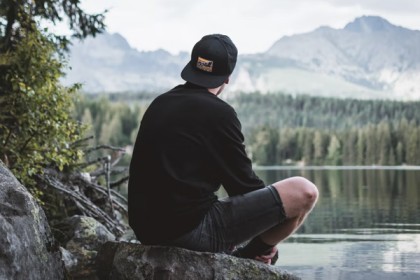 Question 2:- Do you always sit down a long time?
Answer 1:- Not really. Actually, I have habit of walking and going around so sitting for long hearts is not my cup of tea.
Answer 2:- Yeah, of course, I always to sit down for a long time, even 5 to 6 hours. I am compatible with this location and refresh mind because when I get frustrated from life and from the pressure of work, I definitely this place to reduce my stress and regather my energy for the whole day. I always prefer to quality time in these locations.
Question 3:-Do you feel sleepy when are sitting down?
Answer 1:- Yes, of course, if I am in the same place for long time, then I eventually fall asleep, and it also makes my day so dull, I just want to keep roaming around rather than sticking to one place.
Answer 2:- Sometimes, yes, I sleepy even. I also take a nap over the bench because I also feel fresh and compatible with last style because the ambience has to help me to regain energy, so I close my eyes for a hours under the shade of nature.
Question 4:-When you were kid, did you usually sit on the floor?
Answer 1:- Yes, as per the Indian tradition, are supposed to sit on the floor and have meals similarly. I used to follow procedure, and even while I sat on the floor, my mom said that it improved my concentration it helps me to focus on the work I was doing.
Answer 2:- When I was kindergarten, I preferred a lot of surfaces, even over the bench and sometimes on the floor, if it was a part of my life, so I did lots of recreational activities with my toys. Sometimes I preferred to floor for my sleeping, so after that, I got tired from the toys, and I slept over there. 
Question 5: Did you like that colo when you were small?
Answer: As I mentioned, I always liked blue when I was young, but green is something that I started to like just a couple of years ago. Fortunately yes, my house is located near a large park with a wide variety of flowers big trees, so it is an ideal place for me to stroll around and blow off some steam every weekend. 
Question 6: Is the colour of your car motorbike important? Why?
Answer: Yes, and no. I mean, I don't really what colour it is; however, I wouldn't really like to have a pink motorbike. Pink is a little bit feminine for me. These days I have a black motorbike, which I think is a good for it.  
Well, I'm currently living an apartment in a condo near the heart of Hanoi, so as you can imagine, there is no space a garden in there. However, I do have a lovely garden in my parents' house where I grow kinds of flowers and plants.
Well currently I live in apartment in downtown Hanoi. It's quite a bustling area with a lot of shops, offices and quite  big park just around the corner from my house. You can also find people from all walks of around the area.
Question 7: What do you do in the morning?
Answer: So normally I like wake up around 7am, have a light breakfast, and do some household chores, like wash the dishes or sweep the floor, or something like that. Then I usually do some exercise for hour or two and have a second breakfast at about 9.30. After that, I have some spare time do other things, like my hobbies, or some other things that I need to get done.I have to say, Mid-Autumn Festival would be my favourite festival. Like the name suggests, this festival place in the middle of Autumn, which is August 15th according to the Lunar Calendar. I love all special treats during this holiday, especially moon cakes.
Question 8: Have you ever changed your routine?
xem thêm: Bài mẫu và từ vựng technology ielts speaking IELTS
Answer: Of course. I mean, routine depends on my work. These days I work as an English teacher which requires me to work the afternoon and evening, so I have plenty of free time in the morning. But in the past I used have a nine-to-five job, so my routine was completely different then. Well, the most Festival in Vietnam is the Lunar New Year Festival. It's the time for family reunions as people who far away from home can get to spend some valuable time with their loved ones after a long year of being separated. 
Question 9: Do you often have breakfast?
Answer: Yeah, every day. My brain function properly without a good breakfast. In fact, as I mentioned before, I usually have two breakfasts, a light breakfast when I wake up, and then a bigger breakfast around 9. I don't know how people live without breakfast. 
Honestly, I only know a little about western, but I guess the one I find most interesting would be Halloween. You know, it's just a lot of to see people dressing up in many different creative costumes. If I had a chance, I would definitely to celebrate it in other countries to see what it's like. 
Trên đây là câu trả lời tham khảo cho chủ đề sitting down ielts speaking Part 1. Hy vọng bài viết này giúp bạn có thêm những kinh nghiệm ôn luyện. Bạn có thể học cách xây dựng câu trả lời và áp dụng vào mọi chủ đề trong IELTS Speaking tại khóa học luyện thi ielts speaking tại Aten English.